Norfolk Journal, the county magazine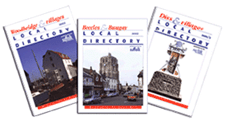 Each month we feature local history, people and places, gardens, homes, fashion, food and eating out, the arts and a four page diary of what's on, books and music, news, issues and the environment – the substance and the spirit of your county.

Take a closer look at your county magazines by clicking on the title.
Local directories


The smart way to advertise your organisation for under 50p a week. Distributed free of charge to every household and business in your part of East Anglia.

Click the picture on the left.